Just love Russian art, the Russian people and the Russian land
| | |
| --- | --- |
| Posted on February 3, 2014 at 11:10 AM | |
The Blue Rose Exhibition in 1907 was one of the first Russian avant-garde events. A departure from a naturalist style, a symbolist tendency and an interest in the spiritual characterised the exposition. Although Kazimir Malevich did not participate in the show, he clearly took an interest in symbolist aesthetics and the exhibited works. This can be seen in several studies for a fresco also known as the Yellow Series, shown at the exhibition "The Great Change" in the Bonnefantemuseum in Maastricht (Spring 2013) and the exhibition "Kazimir Malevich and the Russian Avant-Garde'' in the Stedelijk Museum in Amsterdam (19.10.2013-02.02.14).
In one of these pieces, Study for a Fresco. Self-Portrait (1908, RM), Malevich depicts himself as a self-conscious artist with piercing eyes. Symbolists placed great importance on the role of the artist as a kind of prophet, a person who points the way. It seems to me, that Malevich took this idea to heart in his almost messianic self depiction. The French symbolist writer Joséphin Péladan stated in 1894: 'Artist thou art priest ..., Artist thou art king,..., Artist thou art magician ...' Malevich called his most significant work of art, Black Square (1915), his 'royal infant'. Some specialists in the field today regard him as a true mystic.[1]
At the same time, Malevich reveres 'the other world' or 'heaven' in another study in this series, Triumph of Heaven. What the title signifies may be read in another study in the Yellow Series: Assumption of a saint. 
In it, we see the corpse of a deceased person on earth surrounded by holy beings (see nimbi) and an imposing figure with out-stretched arms guiding him in the transition between life and death. It reminds me of a beloved icon of the Dormition from Malevich's homeland, Russia. Yet, in contrast to the icon where only the soul is carried to the heavens, Malevich's central figure significantly bears both body and soul. This difference need not surprise us, as it reflects Malevich's Catholic background.
Malevich soon leaves the subdued monotone tonality, the multiple forms and the mysticism of symbolist aesthetics behind. He shifts his attention to the pastoral life of peasants employing a different artistic language. In a vein similar to his neo-primitivist colleagues, he simplified forms, utilised bright colours and drew bold, contoured lines.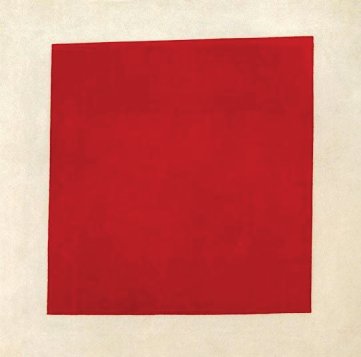 Like Goncharova, Malevich idealised the labour of peasants and brought their religious piety to the fore. He depicts Peasant Women in Church (1909, SMA) as holy people with icon-like faces, or if you like, masks. As outlined in blogposts Modern Russian Pioneers I, II, this glorification of the peasantry was the result of complex feelings of guilt and compassion in post-reform, 19th century Russia and gave expression to the nostalgia migrants to the city such as Malevich and Goncharova, felt in the early 20th century.
In post-reform Russia, Repin and Kramskoy gave common people a face with their beautiful, realist portraits of peasants, whilst early 20th century avant-gardists such as Goncharova and Malevich were less occupied with a photographic imitation of reality and more intrigued by its essence and their own artistic experiments. This can be seen in Head of a Peasant Girl (1912-13, SMA), Red Square and Painterly Realism of a Peasant Woman in Two Dimensions (1915, RM). Clearly, the plight and portrayal of the peasant had become subordinate to Malevich's pursuance of ideas such as the fourth dimension, alogism and cosmic consciousness in his artistic cubo-futurist and suprematist endeavours.
In retrospect, Malevich was convinced that in Black Square, he managed to depict the 'other world', a world normally only - in his words - 'sensed' not seen. Further he felt his suprematist works revealed an infinite, cosmic reality in which form, colour and humans experience free-floating freedom.
To Kazimir Malevich it must have been a liberating experience to discover his 'royal infant', Black Square. For a brief moment in time, as he explains, he transformed himself into the 'zero of forms'. His 'search for God within himself' led to the discovery of a suprematist world where the veil of the world of appearance was lifted and heaven or the infinite white 'triumphed' on a flat canvas. 
Curiously, an undated peasant drawing from Malevich in the Chardzjiev Collection demonstrates an amazing resemblance to his symbolist Self Portrait of 1908, whilst his post-suprematist Head of a Peasant (1928-29, RM) placed against the background of a cross, glorifies the peasant once again. In this way he held onto a mixture of symbolist, Catholic and suprematist ideals rather than the socialist-realist values which were the norm in Communist Russia at this time.[2]
In the Modern Age, revolutionaries and artists including Malevich passionately sought to break from the ideologies and traditions of the past in favour of freedom, equality and brotherhood. These modernists together with their peasant - icon and hero of modernity – ultimately faced the grim reality of 1930s Russia where there was little to hold on to except oneself.
Perhaps Malevich, as he himself acknowledged, was 'a step' on 'a path' leading to a 'world of sensations' where the above three values are respected. As well as the symbolists, the Russian painter was assuredly inspired by his contemporary, Ouspensky who wrote in the foreword to the Russian translation of Du Cubisme (1911): 'Art is a path to cosmic consciousness'. There is only the lightness of being.
Footnotes
1. During an International Symposium linked to the exhibition "Kazimir Malevich and the Russian Avant-Garde" at the Stedelijk Museum Amsterdam, Malevich expert Alexandra Shatskikh stated that, based on his writings and abstract art, the Russian painter should be regarded as a mystic of relevance for the coming five hundred years.
2. For a description of Head of a Peasant, Black Square and other paintings by Kazimir Malevich, see Inge Wierda, Art and Religion in Russia, exh. cat. The Hague, Gemeentemuseum, 2002-03, pp. 83-85, 106-114.
3. Quotes from Malevich can be found in: Malevich. The Artist, Infinity, Suprematism. Vol. IV (Copenhagen: Borgen, 1978) ed. by Troels Andersen, K.S.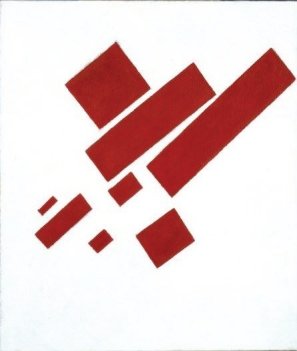 This blogpost is dedicated to Erik (+2014)
Categories: Articles by Inge Wierda, Kazimir Malevich, Modern Russian Pioneers, Nederland-Ruslandjaar 2013, Russian avant-garde
/